Written by Tyler Lamb and Media by Michael Trieb.
Just recently, Community aired its season 4 premier episode on NBC. It is safe to say that I had been impatiently awaiting this premier before its original air date of October 19th. Now, I was a tiny bit skeptical for this season to reach any expectations of the show considering the show's creator, Dan Harmon, was fired from his position and now has nothing to do with the show. This, at first, didn't mean much to me as I like to remain hopeful and positive about things that I have interest in, and Community was
near the top of the list at this time. Unfortunately, nearing the release of the season premier I read some troubling information.
In a Reddit AMA with ex show runner Dan Harmon, he mentioned he knew something was up. He said that he figured one of two things was going to happen and they would either not get picked up for a season 4 or he wouldn't be a part of it. Knowing this, he decided to wrap up season 3 as a series finale, assuming that it would be. Everything ended how he intended, suffice a scene Chevy Chase had walked out on the last day of filming, allowing it to never have a second chance of shooting it. Knowing this made me a tad weary on approaching the new season, especially since Harmon was no longer apart of it. Should I let Community die gracefully in my mind, like the creator would have wanted it to? Or should I continue watching it, knowing most the writers remained and the actors know their characters well enough to execute?
When it came down to it, I caved and decided I needed more Jeff Winger in my life, and watched the season 4 premier. Not a bone in my body regretted this decision. It was a great beginning to a new season, playing off many aspects of the characters we know and making some changes as well. We see some development in Jeff, being less selfish and wanting to make sure he gets to have one last class with his study group.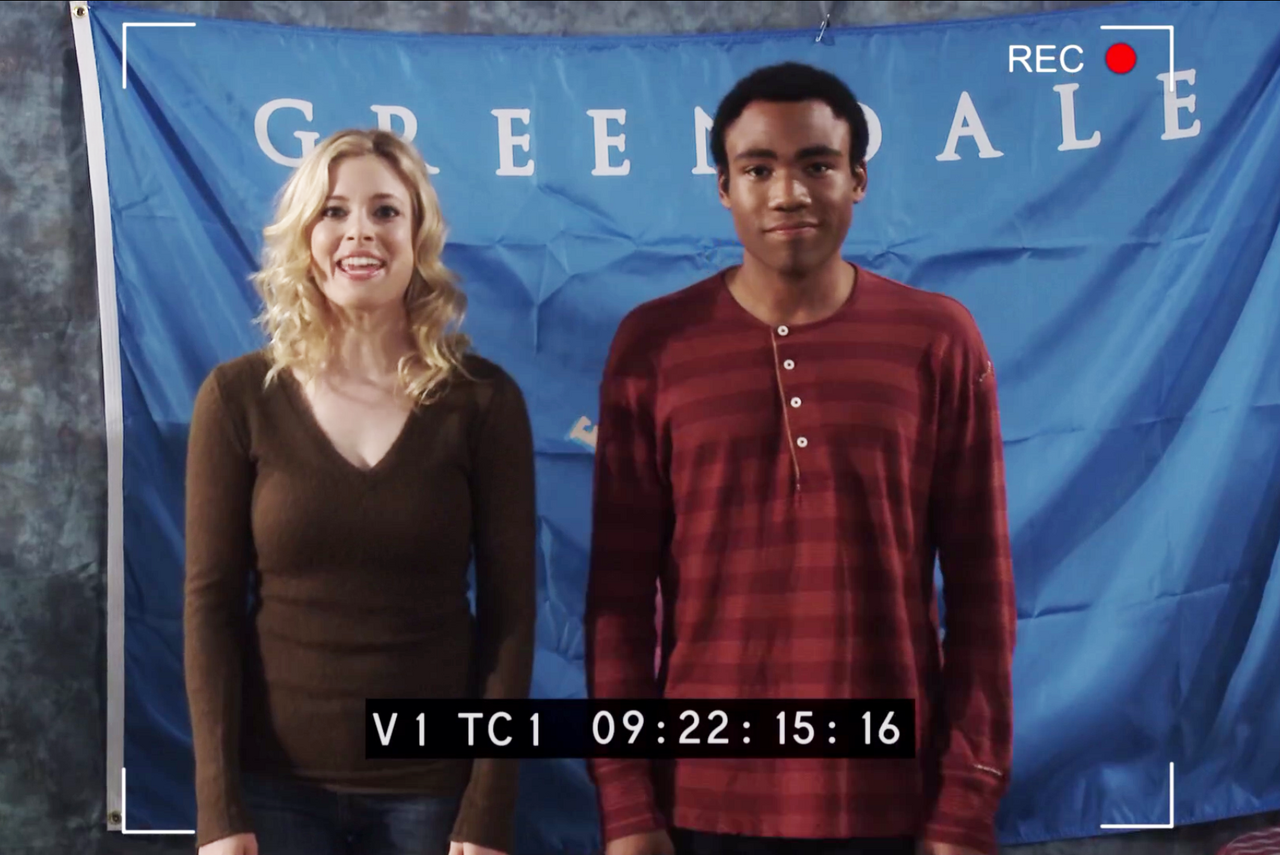 Unfortunately, we get to see the Britta and Troy relationship continue and grow. This is by far one of the worst relationships on TV and just doesn't fit or look good. One of my favorite parts was Abeds multi-camera, shot in front of a studio audience, version of Community in his head. The best part about this was that all the characters played themselves, except for Pierce who was played by Fred Willard. It was a great start to a new season.
Now, the second episode was about as opposite of this as it could have gotten. There was little to no laughs during the "halloween" episode taking place in Pierce's mansion. We are shown more Britta, who is by far the worst character, as she tries and tries to be a successful person. You could consider this development for her, but I much preferred the days when everyone made fun of her because she would always Britta everything.
We learn more about Jeff and his desire to contact his dad as well. Here is another plot point that I don't really care too much for. It's something that I feel the show doesn't need but I see why they are using it. However, I couldn't care less if it was included or not. Overall, the second episode was significantly more disappointing than the first. Hopefully this isn't a sign for episodes to come, and they get back to their original flow. Of course, I don't like every single episode of Community already, a few of the last episodes in season 3 weren't to my liking. However, the general ratio of good to bad episodes favors on the good side. Here's hoping to another great season that won't taint the image of Community, leaving it in a good light for future times to come.