Written by Micah Truitt and Ashley Featherston. Media by Zach Bonner.
Some runner-ups are:
The Wedding Planner: Being as busy as wedding planner, Mary Fiore, finding a decent man is almost impossible. She had just about given up hope until she met the man whom she thought could be the one–that is, until she found out he was the groom of the biggest wedding account she has ever landed. Will Mary be able to control her emotions, or will love get the best of her? Love sometimes comes in the most inconvenient ways.
Bounty Hunter: Reckless bounty hunter, Milo Boyd (Gerard Butler), finds out that his next target is his ex wife Nicole Hurley (Jennifer Aniston), a classy reporter. He tries to pull it off as not personal, just business, but soon gets in way over his head. He doesn't realize that although he may know most every weakness about Nicole, she also knows every single one of his weaknesses. Will he bring her to justice or realize that she is still the woman he can't live without?
Life As We Know It: Opposites attract, right? What about when you get thrown together because  you are the only people left to take care of a little orphaned girl? Holly Berenson (Katherine Heigl) and Eric Messer (Josh Duhamel) find out in this heart wrenching, hilarious, romantic comedy.
Valentine's Day: This movie is about all kinds of relationships and the ups and downs of dating. This movie is full of big stars that bring a great performance. When you really look at it, there are so many things that make a relationship worth it, and you can find that in this movie. You can also get some great tips on what and what not to do!
THE COUNTDOWN!
When Harry met Sally: This movie is about a fun loving couple who meet at many different points in their lives and connect on deep levels. However, something keeps getting in the way. This movie keeps you guessing, and it also shows the struggles of the notorious "friend zone."


The Backup Plan: In our fast paced life, it can be extremely difficult to meet the person of your dreams. What do you do then when you want a family and you just can't wait to meet Mr. Right? Zoe's answer was to get artificial insemination. Her life gets flipped upside down, however, when she meets a man named Stan on the exact same day. Will Stan love Zoe despite her efforts to push him away? Getting caught up in the fast pace can be dangerous if we don't stop to appreciate the here and now.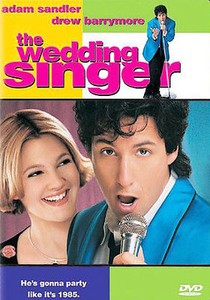 The Wedding Singer: It's funny how right when we think we have life figured out is exactly when it starts unraveling. Both engaged to other people, waitress Julia meets Robbie the singer through a mutual friend's wedding that Robbie is preforming at. Realizing they are engaged to the wrong people, they find their true love for one another just in time.
What Happens in Vegas: This movie is a great one for a laugh and a great time in general. It tells the story of a couple that hooks up in Vegas and wins the lottery, but soon find that they actually have to work at a marriage. After being sentenced to "six months of hard marriage," they begin to discover the wonders (and horrors) of married life and responsibility.
10 Things I Hate About You: You always know you have something good with Heath Ledger, and this movie is no disappointment. The story begins with a bet and a dare, and it can only go up hill from there. With an overprotective dad, two girls have to discover creative ways to get around the rules.


The Princess Bride: This film is a great classic filled with many twists and turns as the story unfolds. Who could go wrong with a pirate pursuing a girl engaged to a prince? The best part is… well I guess you may have to find out that for yourself!
How to Lose A Guy in 10 Days: This movie is a fun story about finding love in a weird place at a weird time. When Benjamin Barry is sent out on a challenge to make any woman fall in love with him in ten days, he decides to choose Andie Anderson. Meanwhile, Andie is given the challenge to hook a guy and then repel him all within a ten day time limit. This clearly is going to be a battle of love and competition.
Sweet Home Alabama: This movie is another classic romantic comedy that will be entertaining all the way through. Melanie Smooter is a southern girl who wants to make it big in the fashion industry. She can't do that while she is in Alabama, so she runs away from her husband Jake. However, while in New York, she realizes she needs her divorce papers signed and that she must return to Alabama to accomplish this. While home, she runs into all sorts of problems and issues that make her question her decision to leave in the first place.
The Proposal: This is a story about a pushy boss (Sandra Bullock) who forces an engagement with her assistant (Ryan Reynolds) in order for her to stay legally in the US. They then must travel to meet his family in Alaska for his Grandma's birthday party. This, of course, leads to all sorts of new perspectives of each other that may change how they feel about the engagement in the first place.  
Hitch: This movie is probably the best romantic comedy for both guys and girls alike. It gives dating tips, has Will Smith in it, shows how to not get a date, has Will Smith in it, is so hilarious, and it even has Will Smith in it! He stars as Hitch, the "date doctor." He gives dating advice to men that are not very good at finding what to say to the woman of their dreams. He, however, must take a taste of his own medicine when he meets Sara Melas, a gossip columnist. This movie shows how life is not always what you plan it to be.