The use of flavored e-cigarettes is a trend that has been rapidly increasing from 7 million users in 2011 to 41 million in 2018 globally. The growing market has pushed e-cigarette technology, devices, and flavors to rapidly develop and become quite diverse. The devices were originally produced as a nicotine substitute to help recovering addicts; however, their liquid substance has come under scrutiny, potentially being more and more harmful than initially thought. Today, it is thought that these increases in vaping technology have brought about an outbreak of lung-related illness, with 530 cases of lung injury reported from 38 U.S. states and seven deaths confirmed in 6 U.S. states.
Despite this outbreak and the currently known effects of vaping, there is still uncertainty about their long-term consequences and their connection to this lung illness outbreak. The lack of long-term experience has caused scientists to question whether the cases of illness are caused by vaping or the also popular THC/CBD products. Still, the majority of health professionals do now "recommend…refraining from using e-cigarette or vaping products" due to these recently developing trends. Are flavored e-cigarettes worth their intended purpose despite the great risk they pose to the safety and health of our country? This rising epidemic must be combated before it becomes even more serious.
A significant reason for alarm is in the recent shift in the target market from the recovering addict toward teens and young adults. In the U.S., one in five high school students use e-cigarettes. Federal investigations are still ongoing, but known health risks of e-cigarettes include particular harm to "brain development in the under-25s, according to some studies, …a detrimental effect on adult brains," and "the cardiovascular system of healthy young adults…the cells lining the lungs; and…the lungs' ability to fend off infections." The appeal of vaping advertising is also stronger and more focused on younger markets. Specifically, "vaping..attracts young people who have never even smoked cigarettes, encouraged by aggressive marketing and the variety of alcopops type flavors available." With these statistics only continuing to rise, many health professionals are concerned about the potential for an epidemic.
Despite the significant increase in the amount of recent lung injury cases, the positive and empowering intentions of e-cigarettes should not be overlooked. E-cigarettes were originally introduced to the market about 15 years ago as a safe alternative to smoking, delivering nicotine through a seemingly less harmful heated liquid. Multiple professional studies, such as a British study, published as recently as February 2019 in the New England Journal of Medicine suggests that "e-cigarettes are more efficient than patches, gum or other products in helping people to stop smoking cigarettes." Even though it's currently difficult to quantify their health ramifications, these studies show that there is evidence that e-cigarettes are indeed less toxic than traditional cigarettes.
Of further concern is that the growing number of vape users has been shown to also correlate to an increase in the number of first-time and daily smokers of real cigarettes, particularly in younger crowds, as noted before. This is quite opposite of the initially intended effect. William Shadel, a scientist at the RAND Corporation in Pittsburgh, Penn. says "vaping could make you more dependent on nicotine, and cause you to later want to take up cigarette smoking." The role of vaping as an onramp to smoking real cigarettes cannot be cautioned against enough.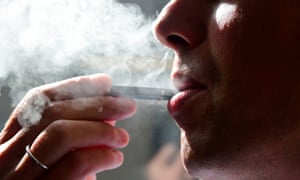 In light of these risks, some steps have been taken by governments to stem the tide. Domestically, the Trump administration has moved "to put out the final guidance that will announce…the enforcement policy…[for] all flavored e-cigarettes other than tobacco flavor…to be removed from the market." Internationally, India has "announced a complete ban on the sale of all e-cigarettes, saying the devices pose a health risk, especially to young people."
With this much public and government pressure to enforce health and safety, it would be wise to consider the potential dangers of vaping. Even despite the lack of clarity on e-cigarettes, data does show that the people of the United States and the larger global community should take the threat of this epidemic seriously. We must be aware of the potential injury it poses to ourselves and our country's way of living.
Media by Thomas Broomfield