With the frenzy of NFL free agency behind us, it's time to look back and re-evaluate our mock of the upcoming 2021 NFL Draft.
Free agency this year shook up the quarterback market quite a bit with Drew Brees and Phillip Rivers announcing their retirements, Cam Newton signing back with New England, and Ben Roethlisberger running it back in Pittsburgh for at least one more year.
With all that in mind, it wouldn't be a stretch to see 4-5 QBs taken in the top 10 picks as teams scramble to find an answer at the most valuable position in sports.
Check out the original Mock Draft here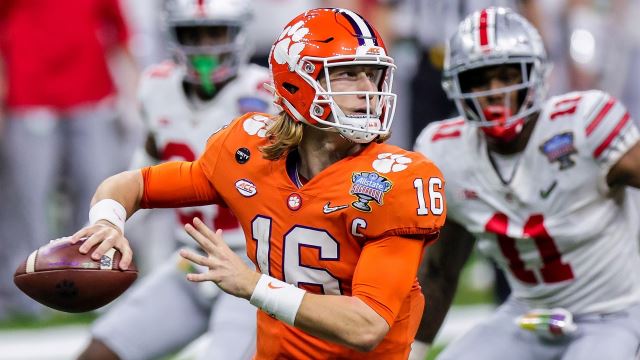 This is still the pick.
Trevor Lawrence stepped on the field at Clemson just three years ago. Perhaps the highest touted collegiate prospect since Andrew Luck (or maybe Peyton Manning), Lawrence is everything a franchise wants in a QB and more: incredible build (6'6″, 215), elite athleticism, and a generational arm talent.
All that combined with a champion work ethic and leadership skills, Lawrence is the most highly coveted prospect in some time.
Despite being scheduled for a minor shoulder surgery, Lawrence appeared at the Clemson Pro Day and put on a show, making impressive throws.
Bucky Brooks, an NFL analyst, was surprised with Lawrence even coming out at all. Brooks said, "From a competitive standpoint, you have to be impressed that Lawrence was willing to come out and throw on Friday. He didn't need this session to prove he's worthy of the draft's top pick, but he chose to put himself out there, even with a shoulder surgery in his future. That just validates what we've already heard about him as a competitor. He's ready to be the face of the franchise for a long time."
Even Jacksonville can't mess this one up.
New York still has a lot of needs and questions to answer before then. There has yet to be a decision on 2018 third-overall selection QB Sam Darnold. He has shown some promise throughout his short career, but at this point it might be best to start fresh for both sides. And with no good news on the Deshaun Watson front, along with some scary allegations which might halt any moves in the near future.
So, as it was a month ago, the Jets still have more answers than questions, and the safe pick is assuming some wandering eyes from the front office and a QB taken here.
BYU's Zach Wilson had an outstanding junior season, showing plenty of athleticism as a dual threat QB, passing for 33 touchdowns to just 3 interceptions, while rushing for another 10 scores.
Justin Fields is also moving up the draft boards after a blazing 4.41 40-yard dash at his Pro Day last week. He is likely to be an option here as well, even with Wilson as the consensus QB2 on most experts' boards.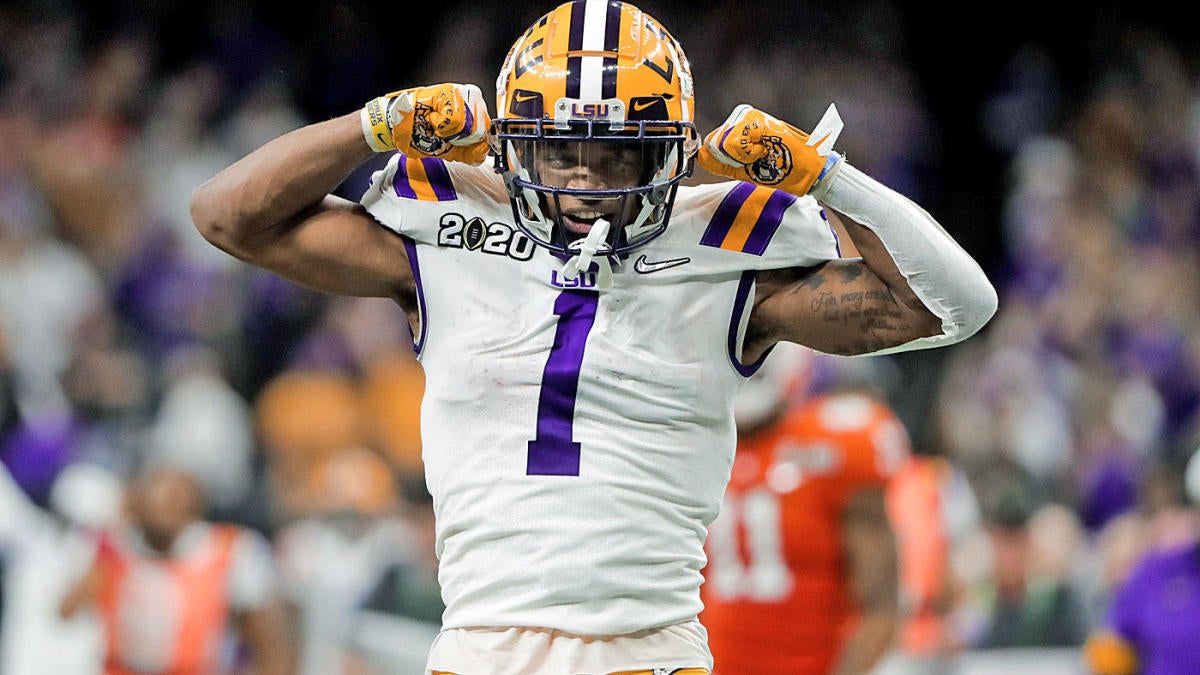 This really comes down to a matter of preference.
Miami, coming off a near-playoff season, is building a contending roster centered around youngster QB Tua Tagovailoa and has made a priority this offseason to add more weapons to the offense.
A wideout here could put the icing on the cake.
Devonta Smith has been the pick here for many experts, but after the signing of Will Fuller, the team move to LSU's Ja'Marr Chase and his more prototypical wide receiver build. Chase has the higher ceiling and could grow behind Devante Parker and Fuller while functioning as a pseudo-top option in the offense.
Chase, who sat out the 2020 season due to COVID-19 concerns, exploded the last time he took the field, tallying up 84 catches for 1,780 yards and 20 touchdowns. In Miami, he should be no different.
4. ATLANTA FALCONS
The Falcons have had a quiet off-season for the most part. They have not made many free agent moves or major trades. Their plan for when the draft comes around next month is still a mystery. There are still some questions that need to be answered:
How much more time does Matt Ryan have?
Can they contend?
Is now the time for the rebuild?
With all that in mind, I expect them to use this great opportunity of drafting higher than they typically would to take a future QB. Add in the new front office and coaching staff, and it looks like a franchise-wide reset is in progress.
Georgia-native QB Justin Fields would cap it off. He spent two seasons as the starter at OSU and demonstrated everything a franchise wants in a QB: unreal arm talent, electric playmaking, and uncanny toughness.
5. CINCINNATI BENGALS
Should the draft still play out like this, Sewell-to-Cincy is the easiest pick to make.
Sewell is a generational talent that ESPN expert Mel Kiper compared to Hall of Fame tackle Anthony Munoz. At pick 5, the Bengals (and Joe Burrow) should be thrilled to get him here.
The Bengals top priority should be protecting Joe Burrow and taking Sewell would go a long, long, way.
Cincinnati should enter this draft under the impression that it needs to do whatever it takes to land Sewell.
6. PHILADELPHIA EAGLES
The Pick: Kyle Pitts, TE, Florida
This pick is a great fit since Philadelphia desperately needs talent on offense, and Pitts is as good as they get at the tight end position. Pitts is considered by many to be the best tight end prospect in quite some time with a good size of 6'6″, reliable hands, and blistering speed as he clocked in a 4.46 40-yard recently. For comparison, Buccaneers Pro Bowl and 6'5″ wideout Mike Evans ran a 4.53.
A finalist for both the Mackey (TE) and Biletnikoff Awards (WR), Pitts, despite playing just eight games, finished the 2020 season with 43 catches for 770 yards and 12 touchdowns.
And while its always a little risky to take a tight end so high, Philadelphia should jump on the opportunity to add a reliable playmaker for their young QB Jalen Hurts.
7. DETROIT LIONS
Like Philadelphia, Detroit needs an influx of talent on offense. After losing Kenny Golladay and Marvin Jones Jr to free agency, taking one of the top receiver prospects in the class at pick seven should be a no-brainer.
Enter Devonta Smith, the reigning Heisman Trophy winner and the most dominant player in college football in 2020. He exploded for 123 receptions, 1,856 yards, and 23 touchdowns while frequently facing double-teams and game plans designed to stop him.
While there are fair concerns about his slight build (6'1″, 175), it's well worth the risk.
New QB Jared Goff is gonna need his weapons. Drafting Smith is a good place to start.
8. CAROLINA PANTHERS
The Pick: Trey Lance, QB, North Dakota State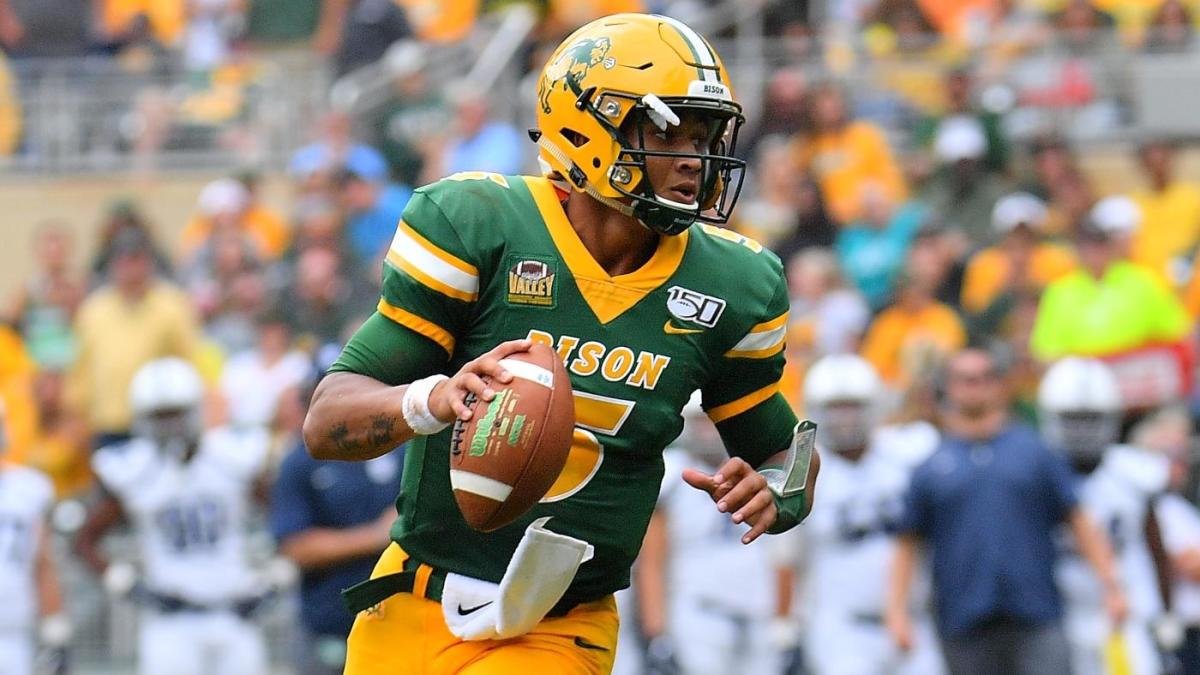 Carolina has not been shy about expressing its desire to upgrade at the quarterback spot this off-season. A failed trade for Matt Stafford certainly stung, but they will have their options at pick 8 in this mock draft. It will likely come down to North Dakota State QB Trey Lance and Alabama QB Mac Jones with Fields, Wilson, and Lawrence all off the board.
There were rumors about the Panthers potentially taking Jones here, but the story now is that the Panthers and Head Coach Matt Rhule did not attend Jones' Pro Day workouts last week. That might be a sign of things to come.
Lance is certainly an intriguing option. NDSU had a one-game season in 2020, but against Central Arkansas, he ran for 150 yards and two touchdowns. He is an elite athlete with a huge arm and explosive running ability. He will be in a great spot to learn from veteran incumbent Teddy Bridgewater.
9. DENVER BRONCOS
The Pick: Micah Parsons, LB, Penn State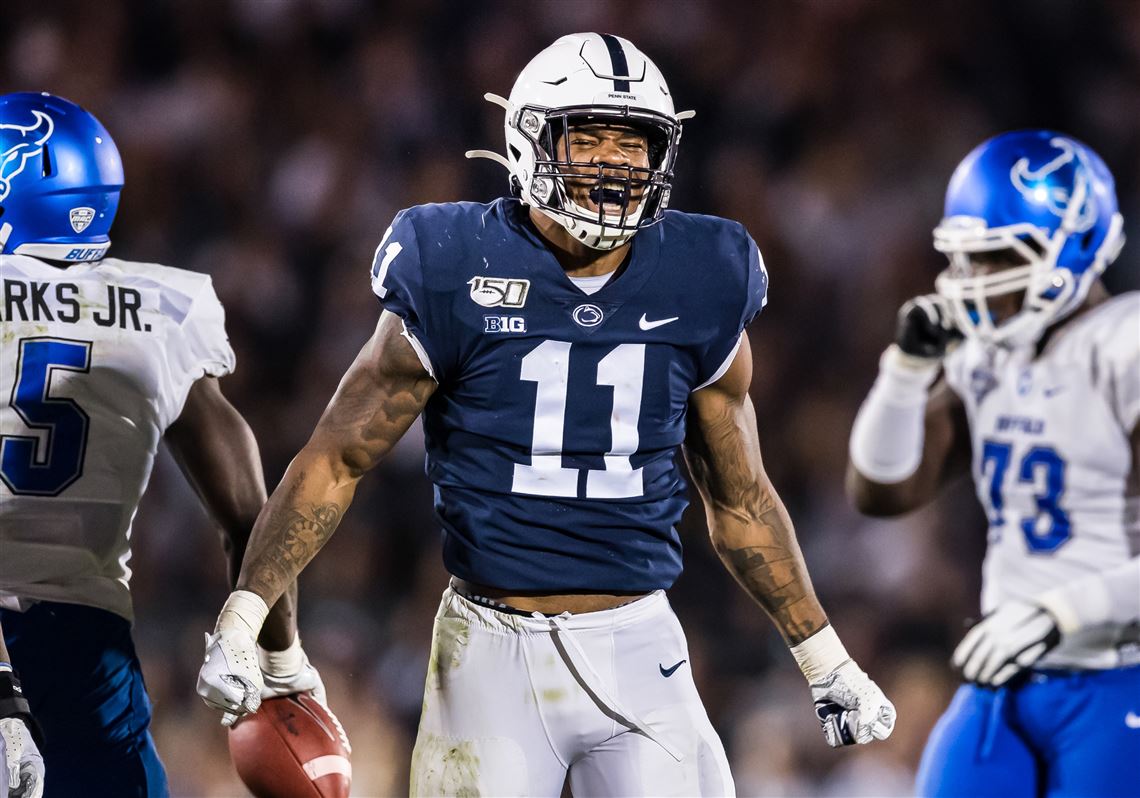 The Broncos, after spending last year's top two picks on Jerry Jeudy and KJ Hamler, will likely look for a new defensive star here at pick 9. It likely will come down to a decision between VCU CB Caleb Farley and Penn State LB Micah Parsons.
Farley is an intriguing choice since he is an extremely athletic defensive back that consistently makes plays on the ball. He eliminates top wide receivers, and he is consistently forcing incompletions and turnovers. His prototypical size (6'2″,210) and length make him a good bet to handle bigger wideouts as well.
While Parsons opted out of the 2020 season, his athleticism really showed as an off-ball linebacker in 2019 at Penn State. He tallied 109 tackles and 5 sacks. He possesses elite sideline-to-sideline speed with serviceable coverage skills and run-stopping. He seems to fill an immediate role as a jack-of-all-trades linebacker.
10. DALLAS COWBOYS
The Pick: Patrick Surtain II, CB, Alabama
Patrick Surtain II, the son of three-time Pro Bowl cornerback Patrick Surtain Sr., is the top ranked corner back by numerous experts and for good reason. Mel Kiper of ESPN explained the fit for him in his recent mock draft. He stated,
"The Cowboys brought back slot corner Jourdan Lewis, but there's still a hole at one of the outside spots, with Chidobe Awuzie walking in free agency. This selection could reunite former Alabama teammates Surtain and fellow CB Trevon Diggs. Surtain is the most fundamentally sound defensive back in this class."
It is believed that Surtain could step in immediately and contribute to a defense that sorely needs help.
All stats are courtesy of ESPN.com
Media by Isaiah Atkins.