On February 2nd, 2020, all of America experienced the Super Bowl game between the Kansas City Chiefs and San Francisco 49ers. This exciting and thrilling game had the whole country on the edge of their seats. The Kansas City Chiefs were led by their coach, Andy Reid, and their quarterback, Patrick Mahomes II. The San Francisco 49ers were led by their coach, Kyle Shanahan, and their quarterback, Jimmy Garoppolo. These two teams both had very explosive offenses and very good defenses on both sides of the ball. Mahomes and the Kansas City Chiefs were the victors and came out on top at Super Bowl 54.
Mahomes was named MVP of the game. His proceeds from this award then went to charity. Sam Fitch, who is a junior and football player at Greenville University, when asked what his thoughts were on the game, mentioned, "The game overall was very exciting and a very thrilling game from start to finish. I am glad that I was able to watch these two powerhouse teams battle it out on Sunday." The Kansas City Chiefs now have earned their second Super Bowl win in franchise history. Even though the 49ers lost, they still have five Super Bowl titles. The Chiefs had played in the very first Super Bowl ever but did not come out on top and fell short to the Green Bay Packers. A couple years later, they then went on to win Super Bowl 4, played in New Orleans, Louisiana, against the Minnesota Vikings.
This win at Super Bowl 54 was a very special one for the Chiefs' organization and for the whole state of Missouri. It had been 50 years since the Chiefs last made an appearance and won a title for their organization which is a very long time to wait to get to the Super Bowl trophy and take home the championship title.
This was also very special for head coach, Andy Reid, because he has become the first coach in NFL history to win his first Super Bowl after 20 seasons as a head coach. The previous team he had coached for was the Philadelphia Eagles but did not find any success there with winning the Super Bowl.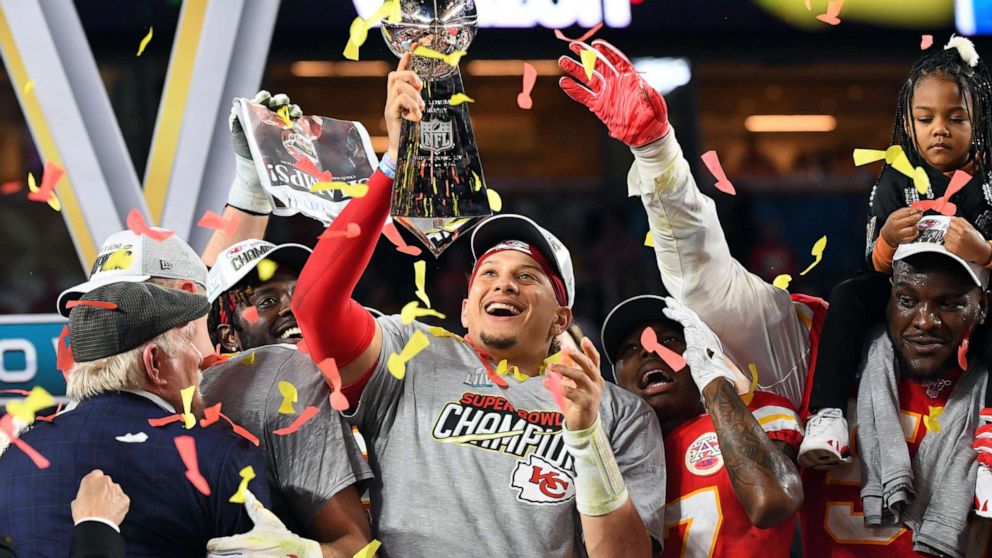 As for the leader, Patrick Mahomes, this was his third season in the NFL. In his second stint with the Chiefs, he was named the MVP of the National Football League. Mahomes threw 26-of-42 for 286 passing yards and two passing touchdowns. He also had 29 rushing yards and one rushing touchdown. He has become the youngest quarterback in NFL history to win Super Bowl MVP.
Key players that had helped seize this Super Bowl victory for the Chiefs alongside Mahomes were some offensive threats such as RB Damien Williams, TE Travis Kelce, and WRs Tyreek Hill and Sammy Watkins. On the defensive side of the ball these leaders and key players are what held the 49ers from scoring in the 4th quarter: DT Chris Jones, DE Frank Clark, and SS Tyrann Mathieu. All of these key contributors are what led the Chiefs to victory.
Media by Mike Buckhanna.